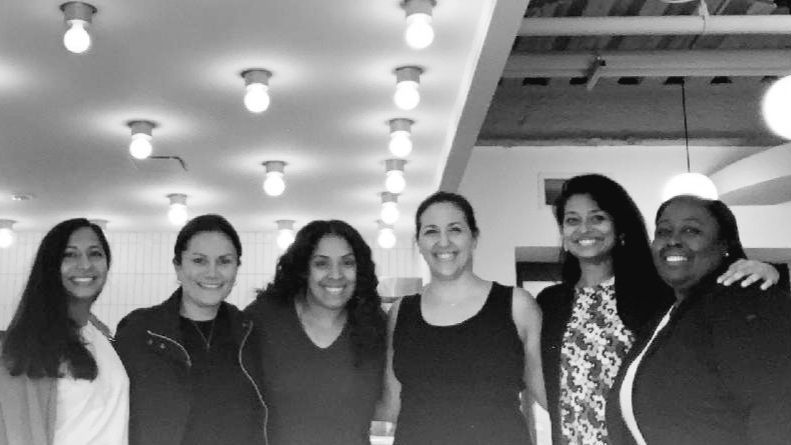 (Pictured L-R: Harika Pal, Swati Mathai, Charina Betances, Jessica Gorelick, Anita Ravi, Keisha Walcott) 
Anita Ravi, MD, MPH, MSHP, FAAFP - President, CEO, Co-Founder, Founding Board Member
Anita Ravi, MD, MPH, MSHP, FAAFP, is a board-certified family medicine physician, public health scientist, and nationally recognized expert in the areas of gender-based violence and trauma-informed care. Dr. Ravi is the CEO and co-founder of PurpLE Health Foundation (PHF), a non-profit organization that invests in the physical, mental and financial health of women and girls who have experienced gender-based violence. She is also the owner of PurpLE Family Health, a PHF-affiliated medical practice that provides comprehensive healthcare and employment opportunities for survivors. Dr. Ravi has authored multiple peer-reviewed publications and illustrated articles in the areas of trauma-informed care, human trafficking, and healthcare delivery in under-resourced settings, and serves on several national committees to advance health equity, including the National Human Trafficking Training and Technical Assistance's Advancing Equity and Inclusion Technical Working Group.  She was recognized as a 2021 "40 Under 40" Leader in Minority Health by the National Minority Quality Forum and was selected as a 2022 Presidential Leadership Scholar.  Dr. Ravi regularly writes, draws, and speaks at events across the country about how the healthcare system must radically change to meet the needs of people who have been systematically marginalized.  She is a graduate of Washington University in St. Louis, received her Medical Degree from the University of Michigan School of Medicine, her Masters in Public Health from Yale University, her Masters in Health Policy research from the University of Pennsylvania School of Medicine, and is a graduate of the Robert Wood Johnson Foundation/Veterans Affairs Clinical Scholars Fellowship Program.
Harika Pal, MD - Board Chair, Co-Founder, Founding Board Member
Harika Pal is a board-certified family medicine physician committed to expanding and improving healthcare access for women and minority communities.  She has been practicing full-spectrum family medicine and integrative, functional medicine in New York City for nearly a decade. Dr. Pal has served diverse populations across the city, including in the Bronx with Montefiore and as the Medical Director for Institute for Family Health's School-Based Health Center Program.  Her expertise in optimizing clinical systems and expanding reproductive healthcare access drives her enthusiasm to create a new model of healthcare delivery through the PurpLE Health Foundation.
Charina Betances, BA - Treasurer, Founding Board Member
Charina Betances is a Program Associate for the Trauma-Informed Linkage to Care (TLC) Clinic at the Institute for Family Health in New York City, and was the Program Associate at the PurpLE Clinic. She is dedicated to helping others and is a team player who received the 2018 Jackie Morais Award from the Mount Sinai Family Medicine Downtown Residency Program.
Swati Mathai - Secretary, Assistant Treasurer
Swati Mathai is an accomplished healthcare executive and board-level leader with significant experience in leading and growing large businesses, payer and employer strategies, as well as digital health innovation. Her expertise includes market access, strategy development, operationalizing key initiatives and relationship building across organizational levels to drive results. Most recently, Ms. Mathai was at Anthem Inc., where she held roles leading Strategy for the Commercial & Specialty Business Division as well as serving as Chief Client Officer for the National Accounts segment. Ms. Mathai has pursued graduate education in both the Health Management & Policy and Finance domains and holds Masters in Public Health and Business Administration. She is a member of the University of Massachusetts School of Public Health and Health Sciences Board, where she actively supports scholarships and internships, and helps identify opportunities for business and academia to collaborate for change.  She serves on the Sword Health Technologies and Gabbi Advisory Boards. Ms. Mathai also provides consulting services to several other healthcare technology organizations.
Jessica Gorelick, LCSW, MA - Chief Operating Officer, Co-Founder, Founding Board Member
Jessica Gorelick is a clinical social worker focused on serving those who have experienced trauma and human rights abuses. Prior to joining PHF, Jessica created the NYC social work program at Human Rights First, which provided psychosocial services to asylum seekers; offered training on trauma-informed care; and engaged in local and national advocacy efforts to address detained and non-detained asylum seekers' needs. Throughout her career, she has worked in a variety of settings including drug and alcohol programs, mental health clinics, schools, and social and legal services programs, providing services like individual, group, and family psychotherapy; case management; advocacy; and crisis intervention in both English and Spanish to survivors of human trafficking, domestic violence, and other severe traumas.  She has also worked abroad as a Program Administrator at a non-profit bilingual school through Bilingual Education for Central America (BECA) in Cofradia, Honduras, managing the educational and psychosocial aspects of the program. Jessica holds a BS in Clinical Psychology and Spanish from Tufts University, MSW from University of Pennsylvania, and MA in International Peace and Conflict Resolution from Arcadia University. She has participated in several years of post-graduate psychoanalytic training, is trained in Eye Movement Desensitization and Reprocessing (EMDR), and maintains a private psychotherapy practice in NYC. 
Keisha Walcott - Founding Board Member
Keisha is a first-generation immigrant who was trafficked to the United States in her early childhood. She is a survivor leader, advocate, and volunteer. She is a founding board member at PurpLE Health Foundation in New York City and takes pride in helping her peers work through the adversity of trafficking.