We are a team of six women from diverse backgrounds and a range of lived and clinical experiences in the area of gender-based violence.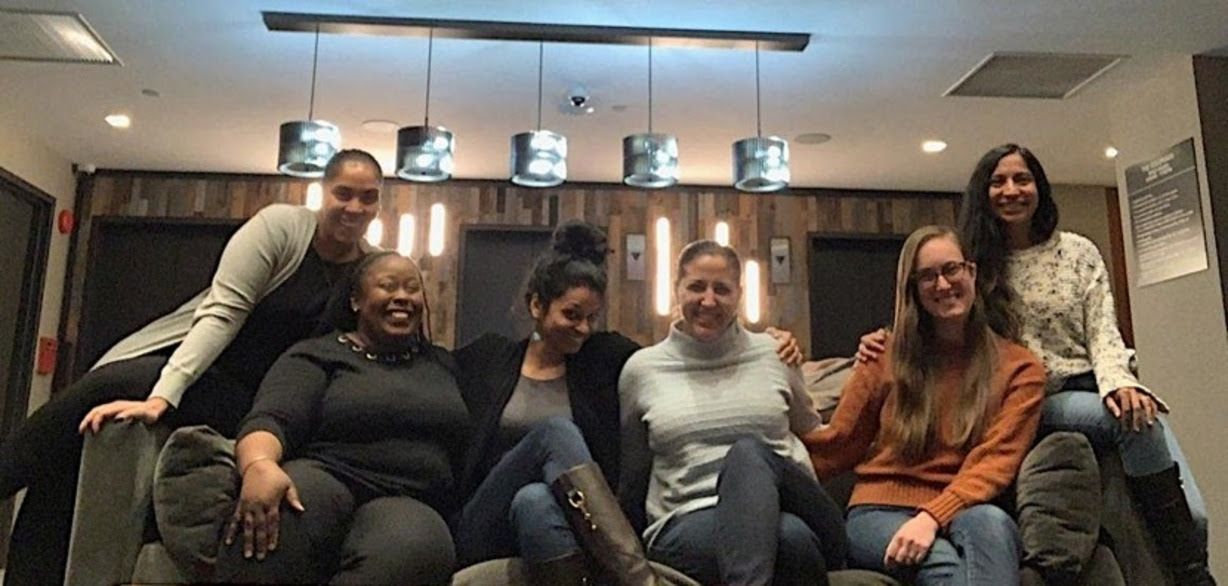 Anita Ravi, MD, MPH, MSHP, FAAFP- CEO, Co-Founder
Dr. Anita Ravi is a board-certified family medicine physician, public health scientist and nationally renowned expert in the area of gender-based violence and trauma-informed care.  Dr. Ravi is the co-founder and CEO of the PurpLE Health Foundation, a non-profit organization that advances the health of communities by investing in the physical, mental and financial health of women and girls who have experienced gender-based violence.  Prior to PurpLE Health Foundation, Dr. Ravi founded and directed the "PurpLE Clinic" in New York City – a pioneering primary care clinic for survivors of human trafficking and other forms of abuse and exploitation. She has authored multiple peer-reviewed publications in the areas of trauma, human trafficking and healthcare delivery in underserved settings, conducts forensic examinations for people seeking asylum, and facilitates health education workshops for people who experience incarceration. Dr. Ravi currently serves as the Vice Chair of the American Medical Association's Women Physicians Section Governing Council, on the New York State Academy of Family Physicians' Board of Directors and as a consultant to the United States' Office for Victims of Crime Training and Technical Assistance Center. Dr. Ravi regularly writes and speaks at events across the country on how the health care system must radically adapt to meet the needs of people who have experienced exploitation and abuse.  She is a graduate of Washington University in St. Louis, received her Medical Degree from the University of Michigan School of Medicine, her Masters in Public Health from Yale University and her Masters in Health Policy research from the University of Pennsylvania School of Medicine/Robert Wood Johnson Foundation Clinical Scholars Program.
Charina Betances, BA
Charina Betances is a Program Associate for the Trauma-Informed Linkage to Care (TLC) Clinic at the Institute for Family Health in New York City, and was the Program Associate at the PurpLE Clinic. She is dedicated to helping others and is a team player who received the 2018 Jackie Morais Award from the Mount Sinai Family Medicine Downtown Residency Program.
Rebecca Giusti, MD - Co-Founder
Rebecca Giusti is a board-certified family medicine physician. She is committed to exploring innovative models of care that holistically address complex social problems and build healthier, more just communities. She currently works for NYC Health and Hospitals-Correctional Health Services providing primary and reproductive healthcare to individuals detained on Rikers Island and serving as associate director of the Intimate Partner Violence and Sexual Abuse Advocacy Programs. Dr. Giusti's research interests include gender-based violence, incarcerated populations, and the intersection between trauma, health, and economic justice. She enjoys speaking to medical students and residents about providing care to complex populations and has presented her work nationally. She is a graduate of Bard College, received her Medical Doctorate from Oregon Health and Science University, and completed residency at the Mount Sinai Downtown Residency in Urban Family Medicine in New York.
Jessica Gorelick, LCSW, MA - Co-Founder
Jessica Gorelick is a clinical social worker focused on serving those who have experienced trauma and human rights abuses. Prior to joining PHF, Jessica created the NYC social work program at Human Rights First, which provided psychosocial services to asylum seekers; offered training on trauma-informed care; and engaged in local and national advocacy efforts to address detained and non-detained asylum seekers' needs. Throughout her career, she has worked in a variety of settings including drug and alcohol programs, mental health clinics, schools, and social and legal services programs, providing services like individual, group, and family psychotherapy; case management; advocacy; and crisis intervention in both English and Spanish to survivors of human trafficking, domestic violence, and other severe traumas.  She has also worked abroad as a Program Administrator at a non-profit bilingual school through Bilingual Education for Central America (BECA) in Cofradia, Honduras, managing the educational and psychosocial aspects of the program. Jessica holds a BS in Clinical Psychology and Spanish from Tufts University, MSW from University of Pennsylvania, and MA in International Peace and Conflict Resolution from Arcadia University. She has participated in several years of post-graduate psychoanalytic training, is trained in Eye Movement Desensitization and Reprocessing (EMDR), and maintains a private psychotherapy practice in NYC. 
Harika Pal, MD - Co-Founder
Harika Pal is a board-certified family medicine physician committed to expanding and improving healthcare access for women and minority communities.  She has been practicing full-spectrum family medicine and integrative, functional medicine in New York City for nearly a decade. Dr. Pal has served diverse populations across the city, including in the Bronx with Montefiore and as the Medical Director for Institute for Family Health's School-Based Health Center Program.  Her expertise in optimizing clinical systems and expanding reproductive healthcare access drives her enthusiasm to create a new model of healthcare delivery through the PurpLE Health Foundation.
Keisha Walcott
Keisha is a first-generation immigrant who was trafficked to the United States in her early childhood. She is a survivor leader, advocate, and volunteer. She is a founding board member at PurpLE Health Foundation in New York City and takes pride in helping her peers work through the adversity of trafficking.